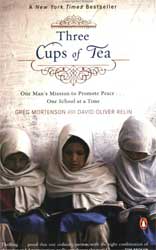 In 1993, seasoned Montana mountain climber Greg Mortenson failed in an attempt to climb K2, the second highest peak in the world. Located in far northeast Pakistan, the Karakoram Range of the Himalaya Mountains is home to sixty of the world's tallest mountains. The Karakoram Range creates a natural boundary between Pakistan and China. and possesses an alpine grandeur rarely seen by people of the western world. In this pristine wilderness, weary and totally worn out from his climbing attempt, Mortenson wandered off the trail leading downward from the base camp and across the Baltoro Glacier to civilization. Completely lost and alone at 10,000 feet, he spotted a row of five poplar trees that led him to an apricot orchard and the small stone and mud hut village of Korphe.

Escorted by the village children, he was welcomed into the home of village chief Haji Ali, and offered a first cup of tea, food, and a place to sleep. The first cup of tea is offered to a stranger; the second welcomes a friend, and the third signifies that one is family.

As he began to regain his own strength, Mortenson came to realize the village had many medical needs and that the nearest doctor was a week's walk away. Trained as trauma nurse, he began to use his skills to tend to the needs of the villagers, truly becoming a part of the family.

Having been befriended by the children, Mortenson asked to see their school and was taken to an outdoor space where eighty-two children, seventy-eight boys and four girls, sat in a neat circle on frosty ground, copying their multiplication tables. As he left Korphe, Mortenson made a promise to Haji Ali that he would build them a school.

Returning to the United States, Mortenson lived in his car while trying to garner $12,000 to build a school in Korphe. Within a year he was back in Pakistan, money in hand, using local contacts to make deals for materials.

This book details Mortenson's incredible ten-year journey as he built not just one, but fifty-five schools, especially for girls, in Pakistan and Afghanistan. What Mortenson has single-handedly accomplished with private donations in fighting the war on terrorism through education cannot be matched by any government agency.

Be prepared for adventure and even romance as you work your way through this delightful book. It may even move you to action.

Grace




Related Resources & Discussions on Teachers.Net...

In the Teachers.Net Lessons Bank...


Latest Posts on the Teachers.Net Booktalk Chatboard...

Book Review...

Teachers.Net Community


Three Cups of Tea: One Man's Mission to Fight Terrorism and Build Nations...One School at a Time

Authors: Greg Mortenson and David Oliver Relin

Reviewed by Grace Vyduna-Haskins
February 1, 2008

In 1993, seasoned Montana mountain climber Greg Mortenson failed in an attempt to climb K2, the second highest peak in the world. Located in far northeast Pakistan, the Karakoram Range of the Himalaya Mountains is home to sixty of the world's tallest mountains. The Karakoram Range creates a natural boundary between Pakistan and China. and possesses an alpine grandeur rarely seen by people of the western world. In this pristine wilderness, weary and totally worn out from his climbing attempt, Mortenson wandered off the trail leading downward from the base camp and across the Baltoro Glacier to civilization. Completely lost and alone at 10,000 feet, he spotted a row of five poplar trees that led him to an apricot orchard and the small stone and mud hut village of Korphe.

Escorted by the village children, he was welcomed into the home of village chief Haji Ali, and offered a first cup of tea, food, and a place to sleep. The first cup of tea is offered to a stranger; the second welcomes a friend, and the third signifies that one is family.

As he began to regain his own strength, Mortenson came to realize the village had many medical needs and that the nearest doctor was a week's walk away. Trained as trauma nurse, he began to use his skills to tend to the needs of the villagers, truly becoming a part of the family.

Having been befriended by the children, Mortenson asked to see their school and was taken to an outdoor space where eighty-two children, seventy-eight boys and four girls, sat in a neat circle on frosty ground, copying their multiplication tables. As he left Korphe, Mortenson made a promise to Haji Ali that he would build them a school.

Returning to the United States, Mortenson lived in his car while trying to garner $12,000 to build a school in Korphe. Within a year he was back in Pakistan, money in hand, using local contacts to make deals for materials.

This book details Mortenson's incredible ten-year journey as he built not just one, but fifty-five schools, especially for girls, in Pakistan and Afghanistan. What Mortenson has single-handedly accomplished with private donations in fighting the war on terrorism through education cannot be matched by any government agency.

Be prepared for adventure and even romance as you work your way through this delightful book. It may even move you to action.

Grace







Related Resources & Discussions on Teachers.Net...

In the Teachers.Net Lessons Bank...

New Jobs on Teachers.Net

GLOBAL TEACHERS RESEAR...

Morrow

Taylored Tutoring, LLC...

Columbus

#