Post Your Resume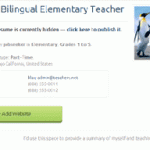 The teacher job market is more competitive today than ever before. Smart teachers are putting technology to work for them by utilizing job search networks online. The best part is, it's free!
At our newly remodeled jobs.teachers.net website, we want to help you find a great job, and help great jobs find you! We've built a network resume database for registered job seekers. Add your resume and gain valuable exposure in our registered job recruiter network at Teachers.Net. You can post your resume to our searchable database for registered employers, and enable job listers to contact you directly!
Your "Dashboard" is the portal to your Resume management center, containing:
Simple, elegant form to create your resume.
Store/manage up to 3 resumes in your account.
Edit a stored resume, and upload a cover letter.
Upload a profile photo.
Control over privacy and visibility settings.
"Apply Online"  and forward your CL/Resume to any jobs posted on jobs.teachers.net
Once you choose to activate your resume,  it becomes "viewable" for registered recruiters and school hiring agents in our network ONLY.
82 total views, 1 today