Post Your Resume
Make Yourself  Visible to More Employers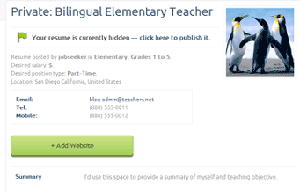 Post your resume on Jobs.Teachers.Net in just a few minutes, and instantly become visible to registered employers seeking to fill their jobs with qualified teachers.
In just a few minutes, your resume listed in our searchable database allowing registered employers to view your information and contact you directly via email. Create your free account and log in to add your resume, create a profile, and indicate your visibility preferences to potential employers.
There is no cost for this service to teachers. That's it, no catch.
How Do I Get Started?
Log In and visit "My Dashboard"
Click on the tab "Resumes"
Click on the "Add a Resume" button to create and manage your resume/CV. Be sure to complete all fields, and don't skip the resume "keywords" which are used by employers to discover and contact teachers in our database.
Preview and save your resume, then you have the option to keep it private (recommended for draft versions), or to make it "visible" (published) in our recruiter database. Resumes you set to Visible then become "discoverable" in resume search results conducted by Teachers.Net's registered job listers and recruiters.
Your resume will now be saved, and is accessible in your Dashboard (under Resumes tab). You can edit or delete or add multiple versions of your resume(s).
Now you can forward your resume when you use the "Apply Online" link for job listings posted on Teachers.Net.
*Note: Search results for jobs shared in our system by Indeed.com and SimplyHired typically have a separate application process.