This job listing has expired and may no longer be relevant!
Online Teaching: Make Money Teaching English From Home
WAIJIAOYI • Anywhere
Job Description
We are hiring 100+ new teachers for our weekend classes till the end of March! Apply now and start working in one week!
WAIJIAOYI provides Fixed Teaching Schedule from 9 AM to 12 NN Beijing Time, Saturday & Sunday,
paid WITH OR WITHOUT classes. We also provide Flexible Teaching Schedule from 1 PM to 7 PM Beijing Time, Saturday & Sunday, paid WITH classes. Join us now and make your weekend productive!
Stage 1: Apply and Submit Info Online
Stage 2: Book for Initial Interview and Show Up
Stage 3: Attend 2-3 days PAID Training
Stage 4: Start Teaching!
Prepare for the following:
1. Updated CV
2. Profile Picture (Professional / Smart-looking)
*Submission without a Photo and CV is an AUTO-FAIL.
CLASS INTRODUCTION:
• Set-up: Online Group Class (10 – 20 students)
• Student age range: 8 – 16 years old
• Teaching materials: provided by Waijiaoyi
• Class length: 25 minutes
• Pay Rate:$18 per hour
• Teaching Platform: ClassIn
• Working Schedule: (Beijing Time) 9:00 AM – 7:00 PM (Saturday & Sunday)
Contact:
maryann@hioffer.com
live:marybunts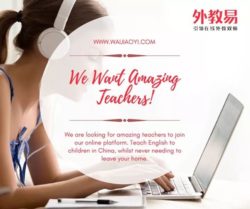 How to Apply
http://t.waijiaoyi.com/apply-85.html
Apply for this Job